Charley Boorman, best known for his travel show "Long Way Round" with Ewan McGregor has spoken in the past of his love for biking around Africa. When the pandemic hit the area, Charley felt obliged to contact Diamond Coatings regarding a school in a small township on the edge of Cape Town.
Masiphumelele Township Nursery was impacted greatly by the virus, as it made its way across the southern coast wreaking havoc as it went. Communities were struggling because of a poorly performing economy, so they already had limited resources.
With pupils due to return to school, the main concern was appropriate PPE, or rather a lack of it, to keep children and staff safe. Such a request for help was something Diamond Coatings were keen to immediately support.
Responding as quickly as possible, Diamond Coatings sent hundreds of Visin Face Shields to Charley Boorman's contact Ali Paulus, who received the PPE in Cape Town in less than 10 days after Diamond Coatings were first contacted.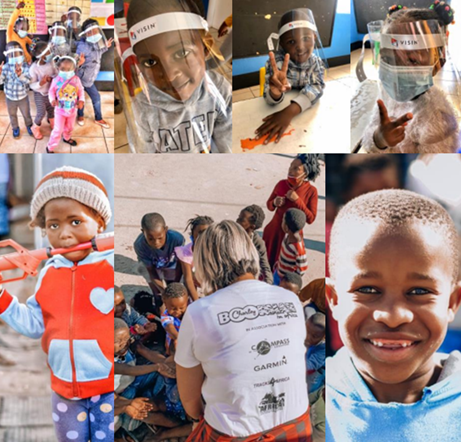 Ali was nothing short of crucial throughout the PPE project and even went as far as organising vital PPE training for the staff at the school, as well as the teaching of other COVID safety Measures.
There are also plans in place for the team at Diamond Coatings to visit the community and the school, as soon as it is appropriate for them to do so, to see how the kids are doing.
Charley Boorman said…
"I'm so impressed with the way Jason Eite (Owner Director of Diamond Coatings) picked up the challenge and gave these kids and families some hope. As well as the PPE, the team also helped promote a rapid funding initiative set up by Ali Paulus to raise funds to ensure the kids got hot meals whilst at school. Fantastic effort."
Jason Eite explains why he felt as strong as he did with regards to taking action…
"I've travelled in Africa many times and I've seen how difficult things can be for local communities with limited funds and poor infrastructure. The South African government is doing what it can, but with such large numbers living in the townships, it's an uphill battle. When Charley contacted us, there was no decision to be made – we just did what we could"
Charley Boorman's fixer in Cape Town, Ali Paulus, runs a volunteer organisation in South Africa. On coordinating the PPE initiative with Diamond Coatings, Ali said…
"We knew that Charley would have the right contacts and we're all really thrilled to see the kids back at school and wearing the Diamond Coatings Visin PPE. Of course, the teachers feel so much safer now too and having the kids back at school takes the pressure off the parents. Everyone is happy!"
Diamond Coatings is an optical coating company and a leading Indium Tin Oxide specialist, with a global customer base. The company is based in the UK with offices also located in Phoenix, Arizona and have recently worked on projects associated with NASA, as well as the European Space Agency's Solar Orbiter.