Established in 2002, Diamond Coatings have become an industry leading manufacturer of Optical and Indium Tin Oxide (ITO) Coatings.
Diamond Coatings have been leading the market in capacitive touch interior light lenses for nearly a decade. To date, we have supplied in excess of 8 million lenses for automotive overhead lighting consoles to luxury car manufacturers.
Innovation, Design and Communication
Specialising in concept prototyping and designs tailored to suit specific client requirements, we combine full PPAP integration with the latest in quality and critical specification management systems to create innovative capacitive touch interior lighting solutions for automotive overhead lighting consoles and optical enhancements to infotainment and automotive displays.
Intuitive Capacitive Touch Lighting Systems
Suitable for use in overhead lighting consoles for both personal and commercial vehicles, the intuitive capacitive touch automotive lighting systems developed by Diamond Coatings are designed to enable drivers and other occupants to operate interior light sources with the simplicity of a touch.
The Diamond Coatings state of the art vacuum coating plants have been custom designed for the high volume, accuracy, 100% quality and repeatability demands of the automotive industry. As such, our coating plants enable us to meet and exceed the high volume & commercially demanding expectations of the world's leading automotive manufacturers
The optically clear coatings are vacuum deposited directly onto the plastic lenses which enables Diamond Coatings to produce an industry leading, highly reliable capacitive touch lens system that will function flawlessly for the entire lifetime of the car and will not suffer the potential faults and failure modes that can be seen with alternative solutions that utilise a secondary conductive medium within the lighting assembly.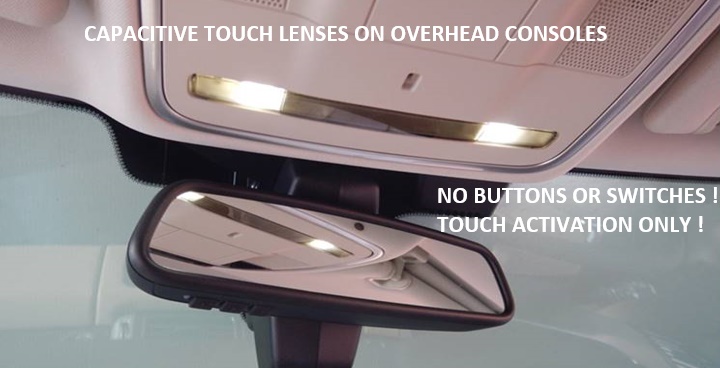 Diamond Coatings capacitive touch interior light lenses for automotive overhead consoles are fully compliant with ESD standards and can be supplied complete with associated electronics.
Diamond Coatings can offer design assistance and full supply of custom lens and console mouldings, as well as packing designs and logistics planning services for seamless integration into a new or existing supply chain.
Click Here to learn more about our interior lighting solutions – Please contact us for a password to view the content.
More Information
We would be delighted to visit you and give you a full technical presentation and an on-site demonstration of our Intuitive Capacitive Touch Automotive Lighting Overhead Console System at your convenience.
To arrange a visit or discuss possible opportunities for this unique automotive lighting solution, please contact our Sales & Commercial Manager, Mr Chris Williams, on 0121 794 0216 or via e-mail at: chris@diamondcoatings.co.uk, or our Automotive Product Platforms Business Unit Manager, Mr Harris Kyriacou, on Tel.: +44 121 550 9430 or via e-mail at: harris@diamondcoatings.co.uk.