Heated Motorcycle Helmet Visors
Calling all motorcycle and snowboarding enthusiasts! You're going to love this…
There's nothing like getting out on the open road and (obviously sticking to speed limits) letting it fly. The same applies at the top of a mountain, ready to carve up the slope stretched out in front of you.
Both biking and snowboarding require the use of helmets to remain as safe as possible, yet there is a problem with helmets we are all too aware of – visors fogging up.
There are products available which assist in anti-fogging in helmets, mostly of an absorbent nature. Some of the team at Diamond Coatings are avid motorcyclists and they felt these products didn't really 'cut it'. Utilising their background of design and development of heater solutions and conductive optical coatings, they created a film that would fit most visors.
The VISIN Heated Visor Is Born!
It's fair to say the team are very excited by this new product. No more mandatory opening of visors or having to hold your breath, The VISIN film will provide a fog-free field of vision for up to 8 hours, even in the most extreme weather conditions.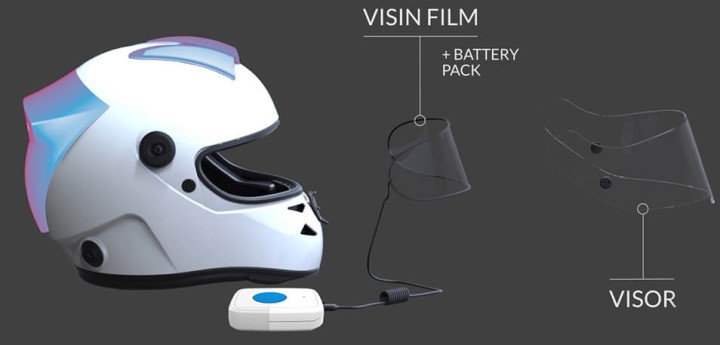 The VISIN heated visor will keep you safer and drier. Safe – because you can see and Drier – because you will not need to open your visor for ventilation to remove that fog.
How Does It Work?
This is where it gets clever. The near universal visor film is applied with a specialist conductive coating that remains optically clear. This allows the visor film to be heated and remove any mist from within the visor.
What sets VISIN apart is the fact that it is powered by a battery – it is the only visor accessory in the World to do so. It doesn't matter what the conditions are, VISIN will remove and prevent further misting.
Does it get better?
Yes! The heated motorcycle helmet visor film comes with 2 settings, normal and boost mode – everyone loves a boost mode, right? The boost mode lasts for 60 seconds and increases the power 2 ½ times, clearing visor fog in under 20 seconds.
Just take my money…
Not yet, sorry. Like all Diamond Coatings products, we want to ensure the most optimum delivery possible so we are still in the final compliance and testing stages. VISIN will then be available in limited runs to ensure high quality and performance is attained with each individual VISIN pack.
You can get in line though. Why not register your interest here and be one of the first to receive the Universal VISIN Heated Visor Accessory when it becomes available?