Anti Reflective Art Display Solutions
What is art? It's an age old question and the answer is always and has to be subjective. If it is a thing of beauty, then surely it's art?
For the writer of this blog, the framed shirts below are exactly that, a thing of beauty (pushing it to be classed as art, I know but bear with me…).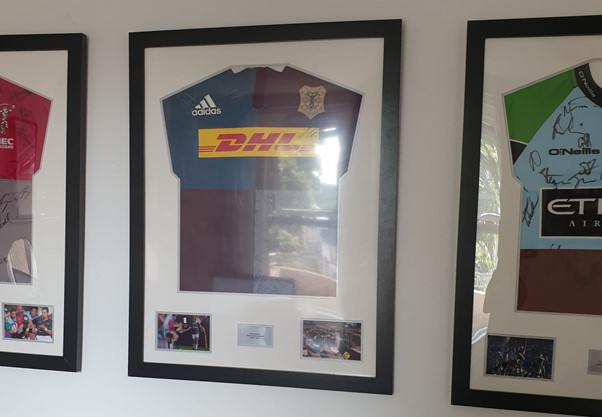 There is of course one glaring issue with this display – the glare.
To be more serious about art though, it is a huge shame when items are not to be displayed correctly. Reflections and glare inhibit the appreciation and enjoyment that should be experienced when viewing a framed item. 
Creative talent should not be hindered by light reflections and/or highly reflective viewing panels. Even beloved framed photographs at home need not have this affliction. There is a solution and it is more cost effective than you might expect.
Anti Reflective Art Display Solutions
Diamond Coatings can supply a range of anti-reflective coatings which are available on glass and acrylic – or even a thin film which can be used on glass and plastic to enhance visibility of the object within – perfect for display cases.
The anti-reflective film is available to buy either on a roll or in sheets, starting from £11.11 per sheet. We also offer a lamination service of our anti-reflective film.
Alternatively, we can coat directly on to your glass or plastic which is showcasing the artwork for you. We offer varying levels of anti-reflective properties which are listed below:
DIAMOND-AR A multi-purpose coating suitable for varying customer requirements.
DIAMOND-AR WET An acrylic sheet dipped with AR coating offering approximately 3% of reflection.
DIAMOND-AR VAC A vacuum deposited AR coating at varying wavelengths and average 0.5% of reflection to suit a range of customer requirements.
If you looked at that image of the shirts with added glare and felt my pain, know that you can rectify your own glare issues with Diamond Coatings anti reflective film sheets. You can purchase directly from this website here. If you would rather discuss further anti reflective options, please get in touch with us today.